Why Morocco Sahara Desert Tours
Travel with experts to discover the real morocco:
We are not only offering you Tours; we provide you real experience in Morocco: an experience of a lifetime.
It's not just about visiting touristic sights in Morocco; it's much more than this. We are very selective when choosing our staff. We don't only choose qualified and professional tour guides and leaders but also choose those who are friendly, with a sense of humor that are committed to offer a superior level of service so you can enjoy your time with them.
We understand very well, what you need.
We are right there where you need us.
We offer competitive prices.
Our Popular Tours
Morocco Sahara Desert Tours From Marrakech
Now discount % on all destinations on our Morocco tour packages.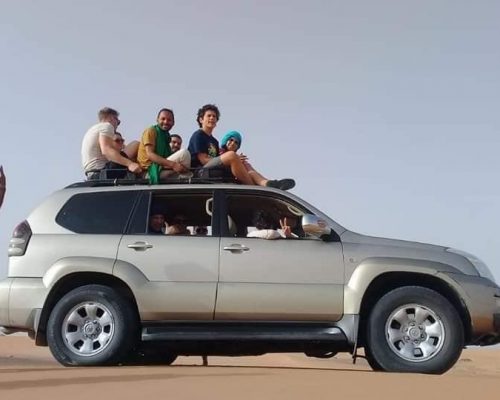 why would you like to rent a car with driver in Morocco?
Hire a car with driver in Morocco is a solution for all your travel needs in Morocco to pass an unforgetable holiday and discouver the country.
for the past 10 years our company has been one of the trusted names in Morocco in the field of tourism and travel and which offers amazing services including private car rental with driver for clients who wants to explore Morocco. Moreover, the company is led by professional, qualified and experienced local drivers who spreaks English, French and Arabic fluently and other languages as needed. Also, all the dirvers have got positive criterias such as polite manners, safe and careful driving style,and a deep knowledge of the roads in Morocco. More than that, we offer you very confortable and licensable touristic cars which will make you feel very comfortable while you're passing your journey. So, no matter if it's a day trip or a holiday, by hiring a car with driver to descouver Morocco your holiday can already begin with your arrival.
BOOK THE SAHARA DESERT TRIP OF LIFETIME
 Morocco has varied and breathtaking landscapes. From palm spotted oasis, majestic golden sahara desert scenes, amazing terrains of the snowy High Atlas Mountains, splendor of coastal cities to cedar forests, sky rising gorges and much more! Travel to Sahara Desert and Camel Trekking Trips in Morocco These Morocco Sahara desert tours listed below are to the magnificent sand dunes of Erg Chebbi in Merzouga where the dunes are taller than what you can imagine. Our Morocco desert trips from Marrakech can end in Fes or Marrakech. They connect the most popular cities of Morocco. The tour takes you to the magical vistas of the High Atlas Mountains, gives you an opportunity to visit several old Kasbahs and sites along the way as well as possibly trek in the Rose Valley, Dades Valley or Todra Gorge. The highlight of this Morocco sahara tour is the desert of Erg Chebbi with camel trekking and night in berber Luxury tents.
MOROCCO SAHARA DESERT TRIPS
Experience Morocco's enormous skies and amazing landscapes on Sahara desert tour from Marrakech and Fes through some of THE most striking scenery such as: the beautiful Atlas Mountains, oases covered with lush palms, centuries-old Kasbahs, mud-brick Berber villages, a wild landscape and golden dunes. Encounter deep canyons, gorges and towering dunes and fascinating tribal culture on this exciting tour through Morocco.
READ MORE
EXPLORE THE DESERT OF MOROCCO
Are you ready for an experience like no other?. We prefer the routes less traveled bringing us closer to nature and the wilderness. We know the Desert of Erg Chebbi in a manner that allows us not only to show you the famed highlights, but also hidden secret spots, from trails to spectacular viewpoints, that aren't so obvious to the casual visitor. With lots of special stops and surprises along the way, our Guides share a side of Marrakech Sahara Trip with you that most travelers never see.
Morocco is like no other country on earth. Who among us in this day and age can imagine what true silence sounds like? The Moroccan Sahara Desert is one of the oldest in the world and yet its vastness and solitude belie the fact that it is full of life. There you can see many nomads living in berber tents. Some of them own many camels and goats.
Morocco Private Tours

From the overwhelming smells of spices and Argan oil of Marrakech, your nomadic journey begins as you take a trip to the Sahara via the High Atlas Mountains. Starting off with a visit to Ait Ben haddou to explore UNESCO world heritage site, a popular Hollywood venue for shooting films and shows ( Gladiator and game of thrones amongst others). Driving through some stunning gorges such as: Dades gorge-, Rose valley and Todgha gorge as you make your way to the desert. Once in Erg Chebbi, you will ride camel to your desert camp, wake up in the middle of the Sahara this fine morning and experience a beautiful sunrise, have another camel ride before heading out to Fes or back to Marrakesh. A night in the Sahara desert tour is fun sitting with local Berber folks, listening to their stories and music. The desert experience is surreal, and quite peaceful. You will enjoy seeing a starry night sky, thanks to a bright moon and sometimes a few scattered clouds. This Morocco desert tour can be extended to Fes, Chefchouan (the Blue pearl of Morocco), Rabat and Casablanca, ouarzazate camel ride.
Explore our Blog
Our blog and Events