BOOK NOW
3 Days Desert Tour From Marrakech to Erg Chebbi
3 days Desert Tour From Marrakech would be the best experience of your trip to Morocco. You will really enjoy every stop. The morning sunrise is magical. The dinner with the berber music by the campfire is superb. You'll enjoy camel ride, bright stars, orange sand & overnight in a fascinating desert camp.
Activities
Activities
Day 01
Marrakech- Atlas mountain- Ait benhaddou –Kellaa Mgouna -Rose valley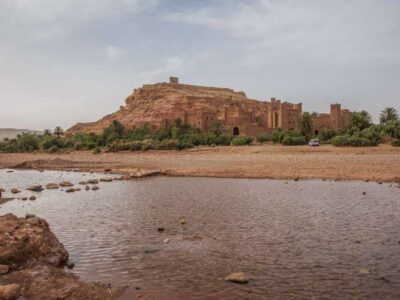 We depart from Marrakesh to Merzouga at 8:00 am and start our Desert Tour From Marrakech to Dades Gorges.We cross the high Atlas Mountains to reach Tizi-n-Tichka which is one of the highest road pass in Morocco (2260m). Here you will have the opportunity to take some perfect photos in this breathtaking view.We may visit the Kasbah of Telouet which was occupied by the Pacha Glaoui during his reign and is frequented by Moroccan travellers. It sits in the village of Telouet nestled outside the Onilla Valley. The Harem and reception hall areas give one a good idea of the former luxury in which El Glaoui lived, as well as a look at the Andalusian style of decorating. However, the older parts of the Kasbah are in complete ruins, making it difficult to see properly. Walking through the crumbling passageways is like walking through a maze and some have gotten lost exploring the dilapidated Kasbah. We will visit the Ait Ben Haddou village -kasbah which is recognized by UNESCO world heritage site as a world patrimony. Many movies were filmed in this village such as Gladiator, Lawrence of Arabia, Babrl, Queen of the desert, Kingdom of Heaven, Game of thrones, the Mummy… etc. Our Desert Tour 3 days continues along what is known as the Road of One Thousand Kasbahs passing the Skoura oasis. Then we continue to visit the Valley of the Roses (Kelaa M'Gouna which is known by Festival of roses & contains some of the unique and rare roses in the world. the main special rose is named "Damaskina") the center of Moroccan roses and rose products. Acres of Persian roses are grown and harvested here to create rose water, creams and soaps prized throughout Morocco and the world. The urbnized street between Kalaat Mgouna & Boumalne Dades is considered the longest street in Whole Africa. As soon as you get to your accommodation, you will be led through tiny family farm plots where you will see the locals picking figs for dinner and wandered along the stream. The roses wouldn't be in bloom until April and May but we can't stress enough how crazy gorgeous this place is and how lovely the Mud houses are "Heaven". Overnight in Rose valley, dinner & breakfast - You will have private room, with private bath, hot water, and most delicious food in the area. You will also be amazing with cultural Berber Music that played by the locals with thier love.
---
Day 02
Rose valley-Dades Gorges- Todgha gorge -Tinjdad- Jorf- Arfoud- Erg Chebbi.
After breakfast at your magical Kasbah in the rose valley, you will head towards another absolutely gorgeous valley which is Dades gorge. It's in this ridiculously idyllic setting. We continue passing the strange rock creation of Tamnalt Hills and we arrive to Dades Gorge carved by centuries by the Dades River. You will enjoy the natural scenery of red and mauve rocks tower above the road. We depart Dades Gorge and travel to another spectacular gorge Todra (the highest oasis in Morocco). The gorge is cut into the ochre-colored cliffs of the High Atlas. Its walls are 300 meters high and at their most narrow part are 20 meters apart. You might want to climb the gorge because it is a great place to learn to climb. The area is absolutely beautiful and the sky is so blue. There are some great climbing areas geared towards beginners with good bolt and anchor placement with moderate grades. It is easy to find climbing at all grades. After lunch in Todgha gorge, you will make our way towards Tinjdad. We reach Merzouga which is known for the highest sand dunes in North Africa. It is called Erg Chebbi Sahara desert. On our way, we will have the chance to see many oasis such as the oasis of Tinjdad. After we arrive to Erfoud which is the capital of fossils and is dotted with thousends of plam trees, it is considered the biggest city that produces dates and also a setting for the biggest Dates Festival in whole Morocco, we will continue our way enjoying the green oasis of palm trees of Ziz –Tafilalet and the Hamada before arriving to Merzouga. There you will ride camel as an amazing adventure in the sand dunes. We will spend the night in an equipped desert camp in the middle of the Sahara dunes! This is a great opportunity to take lovely pictures of the breathtaking sunset and sunrise. At this time, we will explore the secrets of the Sahara and its unlimited horizons. Overnight in a Nomad private desert Tent, dinner. Experiencing an Amazing atmosphere made by the music played by the nomads of the desert, making a cricle around fire, that is why Desert Tour From Marrakech is the best choice.
---
Day 03
Merzouga – Nekob – Agdz - Ouarzazate - Marrakech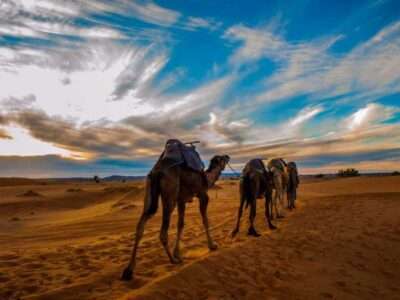 You will wake up to enjoy the sunrise over the dunes of Erg Chebbi, possibly the best moment of the Merzouga desert.This morning you could camel out or take a 4X4. Make your way after breakfast back to Marrakech through the Rissani known for its big local market, you will be fascianted by the way people trade in these markets, they can sell or buy products, exchange products, Alnif (a small village that was a setting for war fights between tribes and Moroccan dynasties during the colonization era The main tribe that own the village is named "Kabaail Ait Atta'), and Draa valley, (the biiggest and longgest valley in the south of Morocco, It starts from Morocco and ends in Algeria), to Ouarzazate. Leaving the desert behind we'll head to the volcanic mountains of Sarhro, dramatic rock formation and gorges of superb views. This area is well known for fossils, mainly ammonites, which are plentiful in the mountains. Reaching the city of Agdez, where we stop for lunch. Then we depart along barren gorges to Ouarzazate. Then time to cross the High Atlas Mountains through the Tizi N Tichka Pass (2260M above the sea level) back to Marrakech.Desert Tour From Marrakech, espicialy 3 Days Desert tour from Marrakech to Merzouga Erg Chebbi Dunes is a great opportunity to explore a wide range of Sahara desert of Morocco in 3 short days.
---
Included
Private transportation and all related costs (gas, parking, tolls, etc)
Experienced English-speaking driver (guide)
En suite rooms with A/C heater with dinner and breakfast
Overnight in Nomad desert camp with guide (private tents) with dinner and breakfast/ Sandboarding
Accommodations with breakfast in other cities
Pick-up from and drop-off at your accommodation.
Option to visit a nomad or berber family
Free time to explore interesting sites such as Ait Benhaddou, kasbahs, walks and canyons, breaks for photos etc.
Not Included:
Personal and Alcoholic beverages
Lunch
Tips and gratuities
BOOK NOW :