BOOK NOW
11 Days 10 Nights From Tangier to Sahara Desert
In this 11 days 10 Nights from Tangier to Desert you'll visit the Imperial Cities, the mountains, the desert, Chefchaouen and more. It covers a lot of ground in 11 days, but the pace of your trip is slow enough to turn all of Morocco's "Must Sees" into an experience. This Morocco classic tour will allow you to truly hit all of the highlights that this country has to offer.
Activities
Activities
Day 01
Tangier- Chefchaouen
In this 11 days 10 Nights from Tangier to the Imperail city and Sahara Desert You will be met by our driver/guide at the ferry terminal or at your accommodation. Then head onto Cape Spartel and the Cave of Hercules and all what the medina has to offer. After lunch, we will drive to Chefchaouen to explore the Medina. Chefchaouen is a beautiful unique city with its white washed walls and its blue doors and windows. Unlike many parts of Morocco, Chefchaouen was occupied by Spain. Therefore there is much influence of the Spanish civilisation and architecture. You have the opportunity to meet locals and walk in this beautiful Medina. Overnight in your accommodation.
---
Day 02
Chefchaoun Sightseeing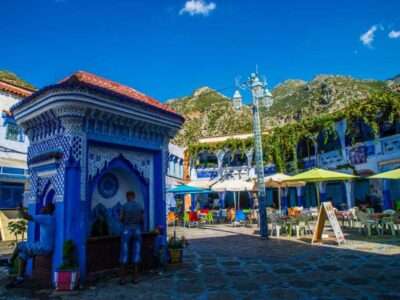 After breakfast, you will have enough time to explore Chefchaoun on your own. You will have great relaxed day of sightseeing & inspiring stay to wander through narrow streets lined with blue buildings to feel like walking in the sky & discovering another sights, culture, tradition, and way of life by Moroccan locals. Then, you visit the great monuments like Plaza Uta el-Hammam which is lined with cafes and restaurants, a peaceful place to relax and watch the world go by; See kasbah built back to 18th century, a heavily restored walled fortress that now has a lovely garden.You wil have time to visit Grande Mosque(Spanish mosque) built in 15th century by the son of the town's founder Ali ben Rachid as well as other monuments.First night of 10 Nights from Tangier in Chefchaouen.
---
Day 03
Chefchaouen- Meknes- Fez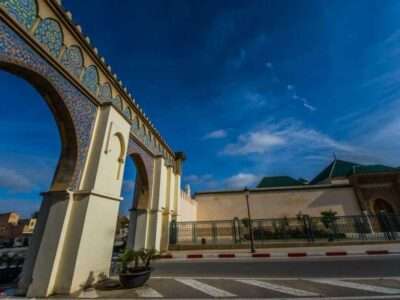 After your breakfast, you will travel south via Ouazzan towards Fes. Before that, you will have the chance to travel back to the 3rd century by visiting one of the most important archaeological site in the kingdom. It is Volubulis, Walili in Arabic language, an attractive roman city or what we call the ruins of Volubilis, which was listed as a UNESCO world Heritage site in 1997. Then onwards to Meknes, where your discovery includes visits to the main historical monuments of Meknes, starting with the Mausoleum of Moulay Ismail (1672–1727).Then we go to the granaries, built in 1600. They were ingeniously designed. Tiny windows, massive walls and a system of underflow water channels kept the temperatures cool and air circulating. He didn't store food for humans, but grain and hay to feed his 15.000 horses. You will stop as well to get pictures of the Bab Al Mansour the Great gate, built in the 11th century. Meknes has been greatly impacted by the Moorish style building. It is now the fifth biggest city of the kingdom since it has a good economy, based mainly on agriculture, olives and wine. The continue to Fes where you will Spend the night in a Riad/hotel.
---
Day 04
Fes sightseeing
Today in this UNESCO World Heritage City you will have a guided visit with a local guide. After breakfast, you will meet with your local guide for your tour of the Old Medina, one of the world's largest walled in cities. You will explore the narrow streets lined with fresh fruit, mounds of spices, intricately woven Berber carpets and many other art objects of Morocco. A visit to the King's Palace, the tanneries,Bab Boujloud, old harem gardens, the Batha Museum and potters are just a few places you will experience. You will be dropped off at your Riad at the end of the tour. Enjoy your evening exploring the medina and the hustle bustle of the street stalls. Spend the night in your Riad/hotel.
---
Day 05
Fes- Ifrane- Ziz Valley- Merzouga Desert
After breakfast, we drive south to the desert via the Middle Atlas Mountains. Most of the day will be spent winding your way through the beautiful forests of Cedar, jagged rock faces, and Berber villages as you cross the Atlas Mountains and begin to descend towards the Sahara Desert. Half way, you will stop for lunch in the town of Midelt, famous for its fossils and rocks. Continue on mountain roads overlooking the wide flowing OuedZiz. Passing Kasbahs and palm groves we pass through the adobe colored city of Er-Rachidia and arrive in the afternoon to Merzouga. Dinner and overnight in a Riad/Hotel alongside the Erg Chebbi dunes.
---
Day 06
Merzouga- Khamlia village- Rissani - Erg Chebbi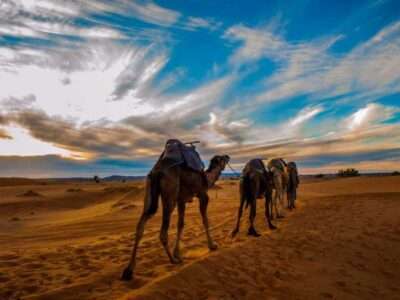 After breakfast you will be discover this beautiful region of the Sahara desert. We visit the fossils center and the ancient city of Rissani. It was once home to the Alawite dynasty as they took power, as well as Moulay er Rachid. It is a cultural destination in Morocco boasting beautiful examples of early Moroccan architectural styles and noteworthy palaces and temples, such as Ksar Oulad Abdelhalim. We see men wearing the indigo blue robes distinctive of the Saharan people. Depending on time, we MIGHT drive to the lake with Flamingos near Merzouga. You will have the opportunity to see the the nomad's way of life and the amazing changing contrasts of the desert. You will visit the village of Khamlia to see the Gnawa musicians. You will have a traditional Berber pizza for lunch in the ancient capital of Rissani ( all depends on time we have in the afternoon). Then head to Merzouga , joining our camels and head off into the desert for a 1-2 hour camel trek to reach our Berber desert camp for the night. The camp provides private Berber bivouacs, under stars being so bright in the Desert. Overnight in the Nomad tent.
---
Day 07
Sahara Desert- Todgha Gorges- Dades valley
Wake-up to a spectacular sunrise in the desert. This would be the best moment of your sahara experience. Then back to the hotel either by 4X4 or Camel ride. We depart to Dades Gorges through Erfoud and Tinjdad. After lunch, we will visit Todgha Gorges where you will take a walk up in the towering Todra Gorges (600 feet high). Continue your journey towards another impressive gorge Dades, passing the strange rock creation of Tamnalt Hills to your Riad/Hotel in Dades valley.
---
Day 08
Dades Gorges- Ait Ben Haddou- Telouat- Marrakech
After your breakfast you will set off towards the High Atlas Mountains via Ouarzazate. We will arrive to the center of Moroccan roses and rose products. Then continue your trip via the Road of One Thousand Kasbahs, passing the Skoura palm oasis before arriving in Ouarzazate. Visit the UNESCO heritage Kasbah Ait Benhaddou. In typical Moroccan fashion, the true treasures must be searched out and discovered... usually off the beaten path. In actuality, this setting has been used for more films than any other location in Morocco; films including, Lawrence of Arabia, Jesus of Nazareth, and recently The Gladiator. Lunch can be taken at Ait Benhaddou. We will visit the Kasbah of Telouet which was occupied by the Pacha Glaoui during his reign and is frequented by Moroccan travellers. It sits in the village of Telouet nestled outside the Onilla Valley. The Harem and reception hall areas give one a good idea of the former luxury in which El Glaoui lived, as well as a look at the Andalusian style of decorating. However, the older parts of the Kasbah are in complete ruins, making it difficult to see properly. Walking through the crumbling passageways is like walking through a maze and some have gotten lost exploring the dilapidated Kasbah.In the afternoon, we cross over the High Atlas mountains towards Marrakech. Drop off at your accommodation.
---
Day 09
Marrakech Sightseeing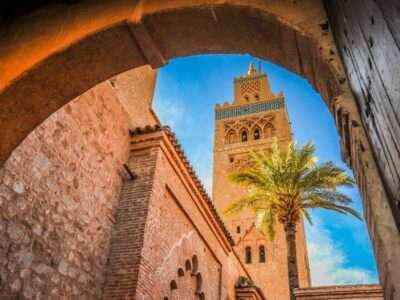 After breakfast, you will be with your local guide and have part of the day to explore Marrakech, the southern pearl of Morocco. Some of the main sights include Moulay Youssef Madrasa, palace of the Bahia, the Saadian Tombs, the magnificent Koutoubia Mosque and the famous Djemaa el-Fna, one of the center attractions of Marrakech. Evening return to spend the night in your Riad/Hotel.
---
Day 10
Marrakech- Essaouira
After breakfast, we will travel towards a charming small town, Essaouira, an Old Portuguese city of Mogador. It was fortified by a French architect Vauban follower. These influences have given a beautiful and unique result. Today, the city is gradually becoming a city of artists. On the way, youwill stop to see the world famous Argan tree while goats are on the top climbing trees (Goats in Argan trees - you need to see it to believe it. Its well worth a visit.). You can always ask our driver to stop for you if you want to buy pure Argan oil. Essaouira has a very favorable microclimate that ensures a mild winter and cool in summer. Not to mention also, a beautiful beach protected by islands Purpuraires. Artisans of Essaouira are famous for inlay on root growth cedar and offer a wide range of items from the souvenir to parts of furniture and works of art. Follow narrow lanes and back alleys into the UNESCO-recognized medina, explore a once-thriving Jewish neighborhood and meet skilled local woodcarvers; linger on the city's broad sandy beaches and take in the sound of gnawa music in the vibrant cafés of Moulay El Hassan square. There are plenty of restaurants for seafood where you can have lunch. In the late afternoon, you will be dropped off at your accommodation.
---
Day 11
Marrakech or Casablanca airport Drop off
After breakfast, transfer to the airport of Marrakech or Casablanca.
---
Included
Private A/C 4WD Toyota Land Cruiser/minivan/ bus throughout the tour + fuel
Experienced English-speaking driver (guide)
Pick up from and drop off at airport
Accommodations with breakfast
Overnight in Nomad desert bivouac with guide (private tents) with dinner and breakfast
Camels and guide, including sandboarding
Accommodation in Dades Gorge with dinner and breakfast
Local guide in Marrakech and Fes
Free time to explore interesting sites such as Ait Benhaddou, kasbahs, walks and canyons, breaks for photos etc.
Not Included:
Personal and Alcoholic beverages
Lunch
Tips and gratuities
BOOK NOW :