BOOK NOW
Experience the Best of Morocco in 6 Days
Embark on a 6-day journey through Morocco, starting in vibrant Marrakech. Explore the Atlas Mountains, visit Ait Ben Haddou Kasbah, and uncover Ouarzazate's rich history. Enjoy the Valley of Roses and a night in Dades Gorges. Journey to the awe-inspiring Todra Gorge, the Ziz Valley, and Erfoud, known for its unique fossils. Take a camel trek into the Sahara, then camp at Merzouga Desert Camp. Explore Merzouga, from Khamlia village to encounters with nomad families. Continue to Fes, passing through the Ziz Valley and the Azrou cedar forest. Immerse yourself in Fes's history and culture. Visit the bustling city of Casablanca, including the iconic Hassan II Mosque. Conclude your journey in Marrakech, taking home cherished memories of Morocco's wonders.
Activities
Activities
Day 01
Marrakech - Atlas Mountains - Ait Benhaddou - Ouarzazate - Rose Valley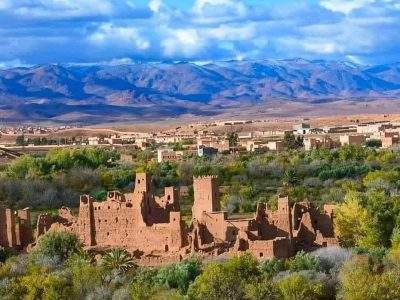 Get on a 6-day adventure from Marrakech as you traverse the scenic Atlas Mountains, venturing through the impressive Tizi N'Tichka pass. Explore the UNESCO World Heritage site, Ait Ben Haddou Kasbah, renowned for its film appearances in iconic productions. Continue to Ouarzazate, known as the "Gateway to the Desert," where you'll visit the acclaimed Atlas Film Studios and the historic Taourirt Kasbah.
Your day concludes in the enchanting Valley of Roses, celebrated for its annual rose festival. Enjoy the first night of your journey in Rose Valley, spending the evening at a traditional riad or hotel with dinner and breakfast provided.
---
Day 02
Rose Valley - Dades Gorges - Todra Gorges - Erfoud -  Merzouga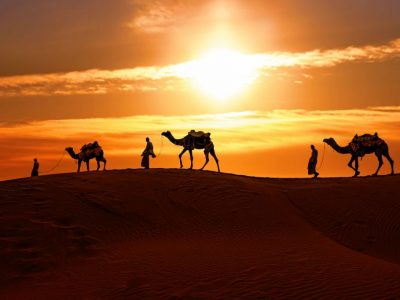 The second day of your journey leads you to the breathtaking Todra Gorge, a beloved destination for outdoor enthusiasts. Traverse the captivating Ziz Valley to reach Erfoud via Tinjdad, a town celebrated as the gateway to the striking Erg Chebbi dunes, famous for their unique fossils. Immerse yourself in the world of fossil craftsmanship by visiting a local fossils factory.
Your day takes a thrilling turn as you head to the Sahara Desert in Merzouga. At the edge of the golden sand dunes, you'll transition to camels, the "Desert ships," embarking on a wondrous journey guided by experienced desert guides. As the sun sets, savor the changing colors of the sand and partake in sandboarding. Your night unfolds at the well-equipped Merzouga Desert Camp, where you'll stay in Berber-style tents. This extraordinary evening culminates with a unique starlit Berbere dinner accompanied by tribal music around a desert campfire.
---
Day 03
Exploring Merzouga and Nomad Encounters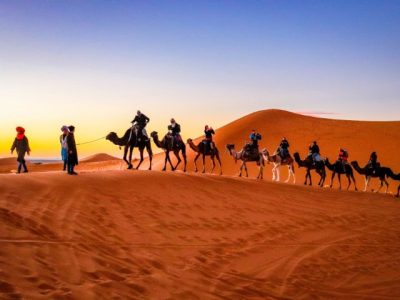 The third day of your Marrakech adventure is dedicated to exploring the captivating Merzouga desert. You'll have the freedom to choose your own path, either enjoying a camel trek or opting for the comfort of a 4x4 vehicle. Explore the unique Khamlia village, renowned for its traditional Gnawa music.
Your 4x4 journey continues to the abandoned town of Mefes, which has been a source of various minerals since the French colonial era. Don't miss the opportunity to visit a generous nomad family residing behind the dunes of the Merzouga Sahara desert. Your day concludes at a Riad/Hotel in the Merzouga area.
---
Day 04
Merzouga - Rissani -  Ziz Valley - Azrou - Ifran -  Fes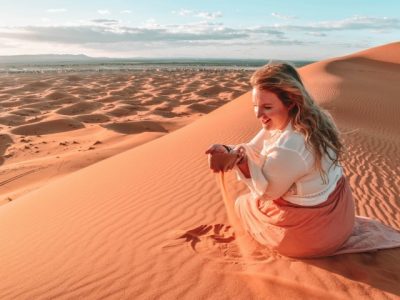 After breakfast, your journey leads you through Rissani and its bustling local souk, the largest in the region. Continue your route through the Ziz Valley, where palm groves offer a picturesque landscape. Savor a delicious lunch at a local restaurant. Your adventure then takes you to the Azrou cedar forest, inhabited by Barbary Apes. Journey to the historic city of Fes and settle in for the night at a local hotel. Along the way, explore Ifrane city, known for its stunning architecture, immaculate gardens, and its reputation as the "Switzerland of Morocco" due to its large Ski resort, Mishlifen.
---
Day 05
Fes -Meknes - Casablanca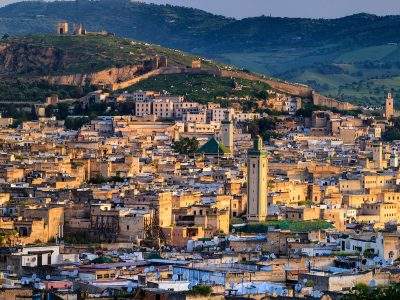 Commence your day with a guided tour of Fes, one of the oldest cities in Morocco. Wander through its winding streets, including Fes el Bali, a UNESCO World Heritage Site. Explore the charming Fes-Jdid, the oldest of the city's three parts, boasting over 8,500 narrow alleys and streets.
Visit key attractions such as the Tanneries, the Attarine museum, and the Moulay Idriss mausoleum. Immerse yourself in the Medina of Fes with picturesque views over the city. After your tour and a satisfying lunch, head to Casablanca, Morocco's largest city, where you'll enjoy dinner and spend the night.
---
Day 06
Casablanca - Marrakech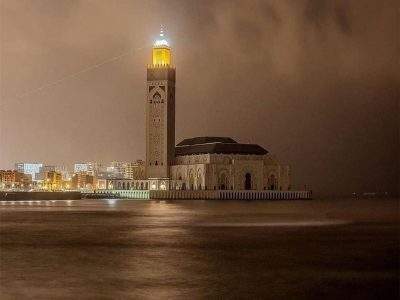 Your final day includes visits to the prominent attractions and monuments of Casablanca, highlighted by the architectural masterpiece, the Hassan II Mosque. Conclude your 6-day tour from Marrakech with a scenic drive back to the vibrant "Red City" of Marrakech. Your adventure comes to a close as you are dropped off at your accommodation or the airport, leaving you with cherished memories of your Moroccan journey.
---
Included
Transport in a private air-conditioned 4×4; Toyota Prado Tx or deluxe van and fuel
Pick-up from and drop-off at your hotel or riad
Experienced local English/French -speaking Berber and nomad driver/guide
Accommodation in air-conditioned rooms/suites with private bathroom
Accommodation in Fes
Accommodation in Casablanca
One night in a luxury camp in Erg Chebbi with private toilet and shower, lamps, plenty of space, and handcrafted furnishings
Camel rides of about an hour - an hour & a half with a guide, and free sandboarding, if desired - just ask the camp staff
Option to go to and return from the camp by 4×4
Luggage service to the camp and all accommodation Berber drumming and music
Dinner and breakfast daily included  (Vegetarian diets can be accommodated )
Pick up / drop off at your Hotel or at the closest parking lot.
Free time to explore interesting sites such as Ait Benhaddou, kasbahs, walks and canyons, breaks photos..ect.·
Option to visit nomad or berber families.
Not Included:
Personal and Alcoholic beverages
Lunch
Tips and gratuities
BOOK NOW :