Explore Morocco Desert Tours from Ouarzazate : Private desert tour with local guides
Unforgettable Morocco Desert Tours from Ouarzazate : Private desert tour with local guides
Welcome to a world of enchantment and adventure in Morocco's breathtaking desert landscapes. Morocco Desert Tours from Ouarzazate are your gateway to a once-in-a-lifetime journey into the heart of the Sahara, where timeless landscapes, ancient traditions, and the warm hospitality of local guides await you.
Please be aware that we can tailor your tour to match your preferred destinations
Highlights of Morocco Tours from Ouarzazate:
Mesmerizing Sahara Desert. Traverse golden dunes, experience camel trekking, and sleep under a blanket of stars in a traditional desert camp.
Immerse yourself in the rich traditions and warm hospitality of the Berber people.
Authentic interactions with local communities, providing insights into their ancient way of life.
Explore the diversity of Morocco's landscapes. From the rugged Atlas Mountains to the lush oases and the historic kasbahs of Ouarzazate, our tours take you through some of the country's most breathtaking scenery.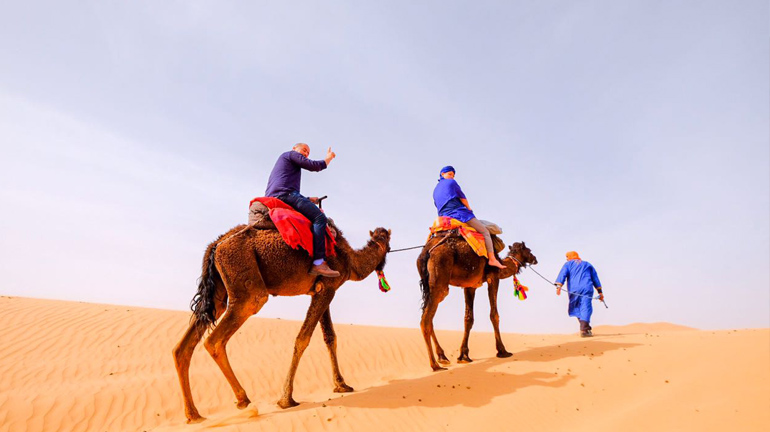 Morocco Desert Tours:
Our carefully curated selection of Morocco desert tours invites you to explore the world's most famous desert, the Sahara, starting from the charming city of Ouarzazate. With our private desert tours, you have the opportunity to embark on a personalized adventure that immerses you in the magic of this vast, golden expanse.
The Magic of Ouarzazate:
Nestled on the edge of the desert, Ouarzazate is often referred to as the "Gateway to the Sahara." Its unique position allows travelers to easily access the mesmerizing dunes of Merzouga, the rugged landscapes of Zagora, and the remote beauty of the Sahara. Ouarzazate, known as the "Hollywood of Africa" for its role in numerous film productions, also boasts stunning kasbahs, palaces, and historic attractions.
What Sets Us Apart:
Our Morocco desert tours stand out for their authenticity and exclusivity. We offer private adventures led by knowledgeable local guides who share their deep-rooted Berber traditions and stories, creating an intimate and culturally enriching experience. Whether you're dreaming of camel trekking through the dunes, camping under a blanket of stars, or discovering ancient desert oases, our tours cater to every traveler's desires.
Discover Ouarzazate: The Gateway to the Sahara
Explore Ouarzazate: The Starting Point for Sahara Desert Adventures
Nestled at the very edge of the vast Sahara Desert, Ouarzazate is more than just a city; it's a portal to another world. As you explore Ouarzazate, you'll quickly come to understand why it's often referred to as the starting point for Sahara Desert adventures. This captivating city serves as a doorway to a realm of timeless landscapes, ancient cultures, and unforgettable experiences. Let's embark on a journey to unveil the enchantment that awaits you in Ouarzazate.
Ouarzazate Excursions to the Sahara: Your Journey Begins Here
Your Sahara Desert adventure starts right here in Ouarzazate. This Moroccan gem is your gateway to the seemingly endless stretches of golden dunes and unique desert landscapes. Ouarzazate excursions to the Sahara offer you the opportunity to explore the mesmerizing desert like never before. Whether you're drawn to camel treks, 4×4 desert safaris, or nights under the starry desert sky, Ouarzazate is where your journey into the Sahara begins.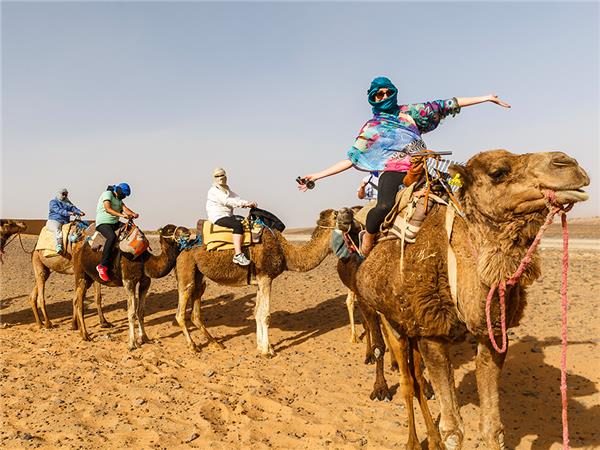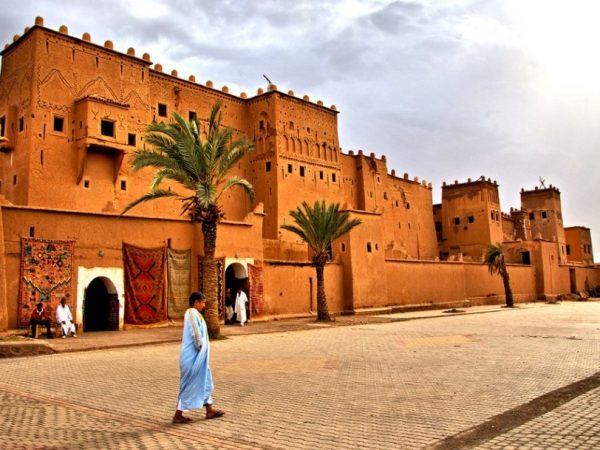 Unveiling Ouarzazate: The Gateway to the Sahara Desert
Welcome to Ouarzazate, the hidden treasure at the threshold of the Sahara Desert. Unveiling Ouarzazate means discovering a city steeped in history and surrounded by some of Morocco's most breathtaking natural wonders. This is your chance to explore the beauty of the desert and experience the warmth of Berber culture. In the heart of Morocco, Ouarzazate is your starting point for a Sahara adventure that will leave you with memories to last a lifetime.
Ouarzazate: The Perfect Launchpad for Sahara Desert Exploration
Ouarzazate is not just a city; it's your perfect launchpad for exploring the Sahara Desert. As you stand on the threshold of this mesmerizing desert landscape, you're poised to embark on an extraordinary adventure. This picturesque city, with its stunning kasbahs and rich heritage, is where your Sahara desert exploration takes flight. Join us as we unveil the wonders of Ouarzazate and set out on a journey that promises to be nothing short of magical.
Our Exclusive Morocco Desert Tours
Explore Our Exclusive Morocco Desert Tours
Are you eager to embark on a memorable journey through Morocco's enchanting desert landscapes? Look no further than our exclusive Morocco Desert Tours. Our meticulously crafted adventures are tailored to provide you with a delightful and immersive experience in the Sahara. Join us as we delve into the unique attractions and experiences that await you on our Ouarzazate-based desert tours.
Unforgettable Morocco Desert Tours from Ouarzazate
Prepare for an unforgettable adventure with our Morocco Desert Tours departing from Ouarzazate. We take pride in offering exceptional experiences that introduce you to the hidden gems of the Sahara. From camel trekking on endless dunes to spending nights beneath a starry desert sky, our tours guarantee memories that will linger in your heart.
Get on Extraordinary Sahara Desert Tours from Ouarzazate
Begin your Sahara journey with our extraordinary Sahara Desert Tours originating from Ouarzazate. Our focus is on creating unique and personalized desert adventures that cater to your every desire. With our deep-rooted local knowledge and a zest for adventure, we invite you to uncover the mysteries of the desert on a tour that promises both excitement and serenity.
Discover Morocco's Best Desert Tours: Ouarzazate Experiences
Welcome to the finest desert tours in Morocco, where Ouarzazate reveals its enchantment. Our Ouarzazate Experiences are designed to offer you an authentic and unparalleled adventure through the Sahara. Join us to explore the richness of Berber culture, the thrill of desert exploration, and the exquisite beauty of this unique corner of Morocco.
Authentic Berber Experiences: Morocco desert tours from Ouarzazate
Immerse in Authentic Berber Culture on Your Desert Tour
Prepare to immerse yourself in the rich tapestry of Berber culture during your desert tour. Our journeys offer a unique opportunity to connect with the traditions, history, and warmth of the Berber people. From their age-old customs to the flavors of Berber cuisine, you'll gain a deep appreciation for this vibrant culture.
Uncover the Rich Heritage of the Berber People on Our Tours
Embark on a journey of discovery as you uncover the remarkable heritage of the Berber people on our tours. The Sahara Desert has been their home for generations, and our itineraries provide a window into their fascinating way of life. Explore ancient villages, interact with locals, and learn about the enduring traditions that make Berber culture so captivating.
Berber Hospitality: A Key Element of Our Sahara Desert Trips
At the heart of our Sahara Desert trips lies the cornerstone of Berber hospitality. Experience the genuine warmth and hospitality of Berber communities as you journey through the desert. You'll be welcomed with open arms and invited to share in their customs, music, and stories around campfires under the starry desert sky.
Experience the Sahara with Local Berber Guides
Make the most of your Sahara experience with our local Berber guides. They are more than just guides; they are storytellers, historians, and custodians of the desert's secrets. With their intimate knowledge of the terrain and deep ties to the land, our Berber guides ensure that your desert adventure is both safe and culturally enriching.
Customer Testimonials for Morocco Desert Tours from Ouarzazate
Geting on a Morocco Desert Tour from Ouarzazate was a dream come true. The team's attention to detail, from the moment we booked to the final goodbyes, was exceptional. Our Berber guide, Ahmed, not only led us through the mesmerizing desert but also shared his deep knowledge of Berber culture, making every moment memorable.
– Sarah, United States
We've traveled the world, but our Sahara Desert Tour with Ouarzazate Tours stands out as a highlight. From the luxurious desert camp under the stars to the thrilling 4×4 ride over the dunes, every moment was filled with adventure and beauty. The Berber hospitality and the delicious cuisine made it even more special. Truly an unforgettable journey.
– Mark and Lisa S, UK
My family and I opted for a private Morocco Desert Tour, and it exceeded our expectations. The flexibility of the itinerary allowed us to tailor our experience, and the guides were accommodating and knowledgeable. We explored remote desert oases, rode camels, and enjoyed the tranquility of the Sahara. A fantastic family adventure we'll cherish forever!
– David P, Canada
Book Your Morocco Desert Tour Today
Ready to embark on your Sahara adventure? Don't miss out on the opportunity to experience the magic of the desert with our exclusive Morocco Desert Tours. Whether you're seeking a private, family-friendly, or luxury desert experience, we have the perfect itinerary for you.
Book now to secure your spot and create memories that will last a lifetime. Our local Berber guides are eager to show you the Sahara's hidden gems, and every day in the desert is a new chapter waiting to be written.