BOOK NOW
Morocco, a land steeped in history and adorned with natural beauty, beckons you to explore its mystical heart – the Sahara Desert. Our 7-day Morocco Desert Tours from marrakech are meticulously crafted to cater to families, couples seeking adventure and romance, and kids hungry for captivating experiences. Get ready for an adventure of a lifetime as we transport you to a world where golden dunes meet infinite skies.
Activities
Activities
Day 01
Arrival in Marrakech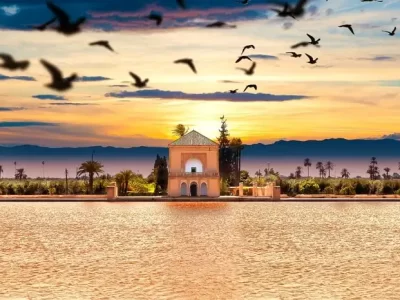 Your Moroccan adventure begins as you touch down at Marrakech Menara Airport. After a warm welcome, you'll be transferred to your comfortable and charming accommodation in the heart of Marrakech. Take this day to acclimate to the vibrant atmosphere of the city, explore the nearby markets, or relax by the pool. Marrakech's exotic allure is just a step away, promising a captivating journey ahead.
---
Day 02
Marrakech - Atlas Mountains - Aït Benhaddou - Ouarzazate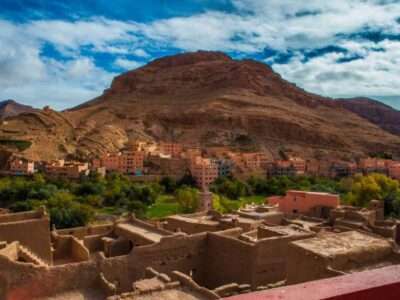 As the sun rises, embark on a picturesque drive through the Atlas Mountains, ascending the winding roads of the Tizi n'Tichka pass. Along the way, you'll encounter the historic Kasbah of Telouet, an ancient stronghold with a rich history.
Your journey continues to the UNESCO-listed Aït Benhaddou, a mesmerizing fortified village frozen in time. The day concludes in Ouarzazate, known as the "Hollywood of Morocco," where you'll rest and rejuvenate for the adventures that lie ahead.
---
Day 03
Ouarzazate - Rose Valley - Dades Valley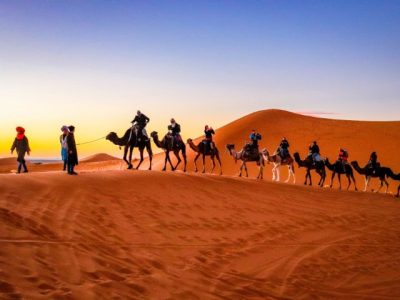 Today, immerse yourself in Morocco's natural beauty as you journey through the enchanting Rose Valley. This region is renowned for its fragrant blooms and breathtaking landscapes. Along the way, stop in Kalaat M'Gouna, a town celebrated for its rose products.
Your day unfolds amidst the captivating landscapes of Dades Valley, where you'll find yourself surrounded by majestic rock formations and lush oases. Your accommodations in Dades Valley provide a tranquil retreat, perfect for unwinding and stargazing.
---
Day 04
Dades Valley - Todra Gorges - Erfoud - Merzouga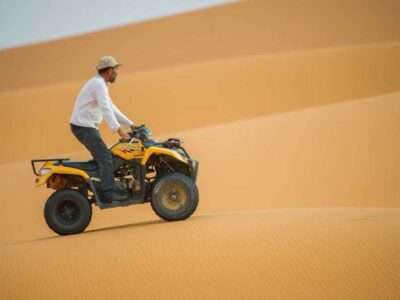 Awaken to the beauty of Dades Valley and set out for the awe-inspiring Todra Gorges, a natural wonder characterized by towering rock walls carved by the Todra River. Continuing your journey, you'll reach Erfoud, a town famous for its intriguing fossils.
As the day progresses, you'll arrive in Merzouga, the gateway to the Sahara Desert. Your anticipation grows as you prepare for a remarkable desert adventure, spending the night in a traditional desert camp beneath the vast Saharan sky.
---
Day 05
Merzouga - Rissani - Alnif - Nkob - Agdz - Ouarzazate
Rise early to witness the Saharan sunrise, a moment of pure magic as the desert landscape is bathed in golden hues. Explore the desert surroundings and visit Rissani, a town known for its bustling markets and ancient traditions.
Your journey continues through Alnif, Nkob, and Agdz, taking you through an array of picturesque landscapes. As the day unfolds, you'll return to Ouarzazate, where you'll reminisce about your desert escapades.
---
Day 06
Ouarzazate - High Atlas - Marrakech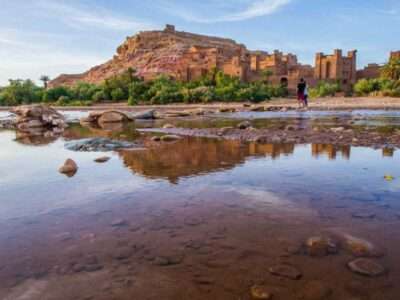 Today, you'll embark on a scenic return journey to Marrakech, crossing the magnificent High Atlas Mountains. As you wind through the rugged terrain and pass charming Berber villages, take in the breathtaking landscapes that surround you.
In the late afternoon, you'll arrive back in the bustling city of Marrakech, where your evening is free to explore the vibrant medina or savor a traditional Moroccan meal.
---
Day 07
Explore Marrakech and Departure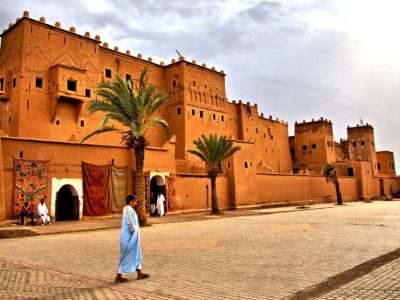 Your final day is dedicated to immersing yourself in the captivating city of Marrakech. Explore the verdant Jardin Majorelle, a serene oasis that once belonged to Yves Saint Laurent, and wander through the opulent Bahia Palace, a testament to Moroccan craftsmanship. In the heart of the city, the bustling Jemaa el-Fnaa square comes alive with musicians, storytellers, and market stalls.
Savor the flavors of Moroccan cuisine at a local restaurant before bidding farewell to this enchanting city. In the evening, you'll be transferred to Marrakech Menara Airport for your departure, carrying with you cherished memories of your Moroccan odyssey.
---
Included
Private A/C 4WD Toyota Land Cruiser/minivan/ bus throughout the tour + fuel
Experienced English-speaking driver (guide)
Pick up from and drop off at airport
Accommodations in Marrakech with breakfast
Accommodations in Ouarzazate with Dinner breakfast
Accommodations in Dades valley with breakfast
Overnight in Luxury desert bivouac with guide (private tents) with dinner and breakfast
Camels and guide, including sandboarding
5 nights at a private room in the hotel or Riad
Sunset camel ride
Camel Trekking (Camel per person)
4x4 transfer from and to the camp (Alternative to Camels)
Accommodation in Dades Gorge with dinner and breakfast
Local guide in Marrakech
Free time to explore interesting sites such as Ait Benhaddou, kasbahs, walks and canyons, breaks for photos etc.
Not Included:
Personal and Alcoholic beverages
Lunch
Tips and gratuities
BOOK NOW :