BOOK NOW
Discover the enchanting Moroccan desert on a captivating journey from Ouarzazate to Erg Chebbi dunes and Zagora. Immerse yourself in culture and comfort as you explore iconic landmarks like Kasbah Ait Ben Haddou, Skoura Oasis, and the Dades and Toudgha Gorges. Enjoy a magical sunset camel ride and luxury desert camp experience. Explore quaint villages, visit the Quranic Library, and discover pottery workshops. Your journey concludes with a scenic return to Ouarzazate, leaving you with unforgettable desert memories.
Activities
Routes
Day 01
Ouarzazate - Skoura - Dades Valley
Get on your desert adventure after a delightful breakfast at your riad. At 8:30 AM, your friendly driver/guide will pick you up in a comfortable 4x4 vehicle. You'll explore the iconic Kasbah Ait Ben Haddou, a UNESCO World Heritage Site famous for its Hollywood appearances. Next, visit the Skoura Oasis to explore palm groves and the fortified Kasbah Amredhil. Continue your journey through the enchanting Road of a Thousand Kasbahs, Kel'aa M'gouna, and the Valley of the Roses.
You'll even learn about rose processing at a cosmetic products cooperative. After lunch, venture off the beaten path to experience life in the oases and explore caves inhabited by Berber nomads. The day concludes with a leisurely walk in the Dades Gorges before settling into your hotel or Kasbah for the night.
---
Day 02
Dades Valley - Tinghir - Alnif - Rissani - Merzouga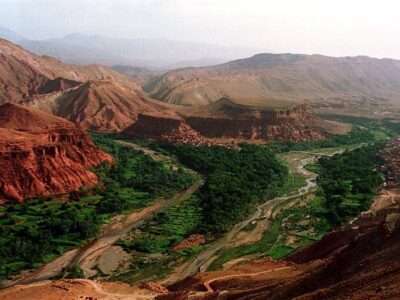 Day two begins with a hearty breakfast, followed by a riverside stroll in the Dades Gorges. Head back down the valley, passing through Tinghir to reach the awe-inspiring Toudgha Gorges, where a short walk along the river awaits. Your journey then continues to the Erg Chebbi dunes via Tinjdad, where a delicious lunch is served.
Explore intriguing underground water channels, known as "khattarat," and visit the famous Oasis of Tafilalt and Erfoud, celebrated for its fossil artifacts. At the desert camp, you'll be welcomed with tea before embarking on a camel ride to the top of Erg Chebbi dunes, where you'll witness a breathtaking sunset. The evening includes dinner under the starlit sky and entertainment with Berber music and drumming around a campfire at a luxurious campsite with private bathrooms and king-sized beds.
---
Day 03
Merzouga - Tazarine - Zagora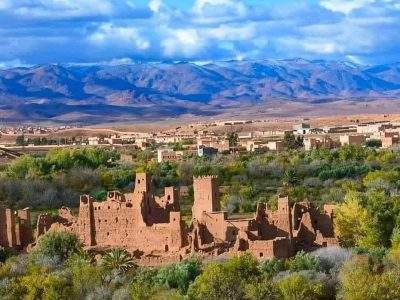 Early risers are rewarded with a spectacular sunrise over the dunes. After breakfast, enjoy a second camel ride and further exploration of the dunes. Your journey continues from Merzouga to Zagora, passing through the villages of Rissani, Alnif, and Tazzarine, known for their appearances in the movie "Babel." The night is spent in a beautiful riad, which also serves as the venue for a delightful dinner.
---
Day 04
Zagora - Tinzouline - Agdez - Ouarzazate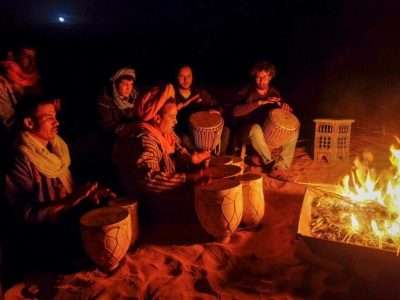 Following breakfast, head south to Tamgroute village to visit the Quranic Library and green pottery workshops, renowned throughout the region. Drive north through the Dra'a Valley, taking an off-road route to admire palm tree fields, fortified kasbahs, and green oases. Stop at panoramic viewpoints for photos and exploration. Explore Kasbah Tamnougalte with a local guide and enjoy lunch. In the afternoon, return to Ouarzazate over the Anti-Atlas Mountains via the Tizi-n-Tinfifite pass, where your driver will escort you to your hotel, concluding your memorable Ouarzazate desert trip to the Erg Chebbi dunes.
Included
Private air-conditioned 4x4 transport (Toyota Prado Tx or deluxe van) with fuel.
Convenient pick-up and drop-off from your Ouarzazate riad or hotel.
Expert local English-speaking Berber and nomad driver/guide.
Comfortable accommodation in air-conditioned rooms/suites with private bathrooms.
A night of luxury camping in Erg Chebbi, featuring a private toilet, shower, lamps, and traditional Moroccan furnishings.
Guided camel ride with the option for sandboarding, just inquire with the camp staff.
Choice to travel to and from the camp via 4x4.
Hassle-free luggage service to the camp and all accommodations.
Enjoy Berber drumming and music.
Free time to explore sites like the Dra'a Valley and Kasbah Tamnougalte, with opportunities for walks, photos, and tea/coffee breaks.
Freedom to request stops along the way.
Option to visit a nomad or berber family
Not Included:
Personal and Alcoholic beverages
Lunch
Tips and gratuities
BOOK NOW :